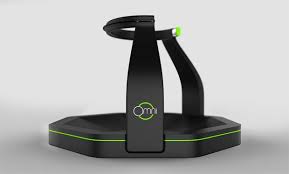 As most of you will know, a new virtual reality system called the Oculus Rift is currently in the development and testing stages. This device, amongst a few others,  gives new meaning to the term 'virtual reality'.
With this device now in development, many developers are trying to create the next top trend in gaming technology.
Whilst some have come far and have succeeded in their dream, there are a selected few that have managed to go beyond expectations. They've managed to take the well-known sports treadmill and morph it into something even more revolutionary.
Developers have managed to take something designed for exercise and used it to give more depth to virtual reality gaming.
To use the omni, the gamer must first put on the Oculus Rift, then step on the Virtuix Omni.
Whilst in game, the gamer can now physically move in any direction, and in turn, the game's protagonist will mirror that movement.
Early prototypes of this machine have been sighted at E3, as well as, other gaming news sources.
Various videos of the Virtuix Omni can be viewed via the creator's site; (here).
The product is available for preorder, (if you happen to have $499.00 just lying around), and developers may weigh in their skills and help the development.
This is definitely a product to keep a look out for.