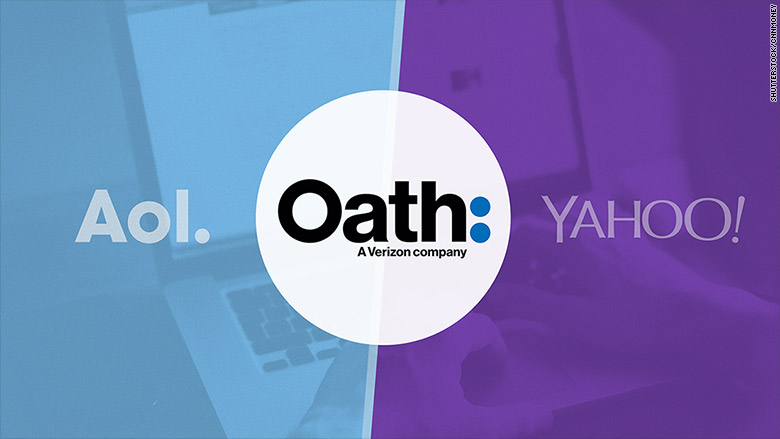 You weren't supposed to know about Oath. Not this week, at least. And certainly not under these circumstances. The newly minted and already much maligned poster child of the forthcoming face of Verizon's Yahoo acquisition was developed in-house as a B2B brand, designed for customer and partner relationships. That's according to AOL CEO Tim Armstrong, who spoke to TechCrunch as the blogospheric snark finally began to abate following a day of Troncesque takedowns.
But a Business Insider story that broke yesterday beat the companies to the punch, leaving them scrambling to convey the new branding. Armstrong quickly issued a tweet, putting to rest mounting doubt regarding the veracity of the branding effort.
"Billion+ Consumers, 20+ Brands, Unstoppable Team. #TakeTheOath. Summer 2017." The logo attached was simple Helvetica, along with a giant blue colon that seems to serve as some comprise between the Aol period and Yahoo exclamation mark — and, the company no doubt hopes, some open-ended peek into the future.
The acknowledgement of the leak and the branding push that followed were rushed, out of necessity — though Armstrong says the company had a plan in place for the seemingly inevitable leak, roughly a month or so before it had hoped to officially reveal the information to the public. Even so, he admitted that certain aspects were rushed.
The uncomfortably forceful (and borderline cultish) #TakeTheOath hashtag tops that list. The value of Oath as a brand, B2B or otherwise will surely be the subject of much conversation in the coming weeks, as Verizon offers up more insight into how it slots in with the company's overall strategy. Meantime, it's likely to do some tinkering with hashtags, rhyme schemes and the like, before its more controlled public unveiling.