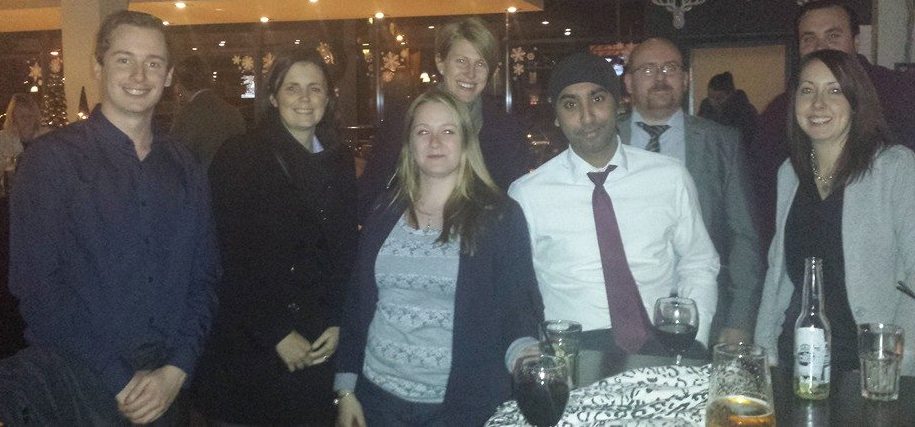 Axita Talks Networking with other Young Business Professionals
Digital Marketing and IT Solutions specialists Axita Limited joined Soliciting Firm Taylor Bracewell, Mañana Mañana and other local young business people last Friday to network and bring the local business community closer together.
The South Yorkshire based law firm hosts a bi-monthly networking event to allow local entrepreneurs to build trusted contacts and network in a relaxed and informal setting.
Adam Newsome of Axita Limited said of the event: "Next Generation networking events are a great way for the local business community to make contacts and chat in an informal, chilled out environment. There was a great, friendly atmosphere and I'm positive Axita will be attending many more of these and other networking events in the future."
Axita frequently attends networking events as they have proved a great way to make new contacts and grow the business even further. They recently attended The Business Doncaster Showcase at Doncaster Racecourse as well as regularly making appearances at Next Generation Networking, BNI and Network North to name but a few. Axita also partners with Evans Halshaw to host networking events at Citroen in Doncaster.
"We love it" said Alexander Van Steen of Axita Limited. "Its a great way to make new connections with other younger aspiring business people like ourselves; relationships that will be of benefit in the future."
Attending businesses included ProAktive, HSBC, Allots Accountants and Hawsons, and the event is hosted by Taylor Bracewell.
Nicola Taylor from Taylor Bracewell said "We wanted to organise an event where young professionals could meet on a regular basis to build connections and long lasting business relationships. The setting is relaxed and informal. We have met some brilliant new business people and have found that many much prefer this more personable and informal style of networking.
This was the first time that Next Generation Networking has met since the renovation at Mañana Mañana in February of this year. Some of the works to the popular Doncaster bar included the completion of an upstairs lounge bar complete with its own bar and dance floor, installation of state of the art sound and lighting systems and the amalgamation of two of its downstairs bars into a full, central, cocktail and draught horse shoe bar at a cost of over £180,000.
Symon Mcfadden who manages Mañana Mañana said "We are so proud of our bar which has won best bar in Doncaster in the last 6 out of 11 years and was nationally recognised as the 6th safest bar in the whole country.
Now that our renovation and 'new look' is complete from this weekend we will be going back to classics such as martini's, cosmopolitans and even serving our own cocktail called, surprisingly, the 'Mañana Mañana' [consisting of Archers, Malibu, Cointreau, Orange, Grenadine and crème de cassis]."
Next Generation events are held on a bi-monthly basis, if you would like more information you can contact Taylor Bracewell on 01302 341414 or email nicola@taylorbracewell.co.uk.